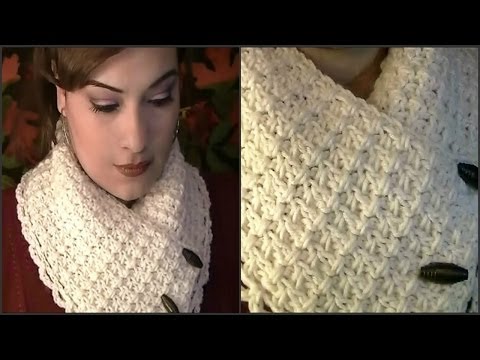 Link Para El Video Paso A Paso de como tejer esta bufanda en Español :http://youtu.be/aZRKFg-Oi30

Hello!

Happy Tuesday ~

Here's the how to crochet step by step video I promised you. I hope you like it :) It's a really quick easy project because the scarf is short. It's also a very warm scarf, perfect for these cold winter days, because the stitch of this scarf is nice and tight.

It's also very fashionable & will go great with any winter coat. I don't have a name for this stitch. I just wanted to come up with a tight stitch & this is what I came up with. There might be a name for it out there, but I didn't copy it from anywhere.

Have An Awesome Week...

List of brands & products I used to crochet this scarf :


Yarn I used is by Red Heart Super Saver #4

Color Aran

I didn't measure how much yarn I used for this scarf but I bought a 364 yard roll & I had enough left over to crochet a set of fingerless gloves, & a beanie hat.

Crochet Hook size J/10-6.00MM

Buttons I used are by Le Bouton I bought them at Walmart

Music by Dan-O at DanoSongs.com
The name of the track: The Streatham Hill Gods
Direct Link to song: http://www.danosongs.com/music/danoso...
Direct link to the license terms: http://danosongs.com/danosongs.com-li...