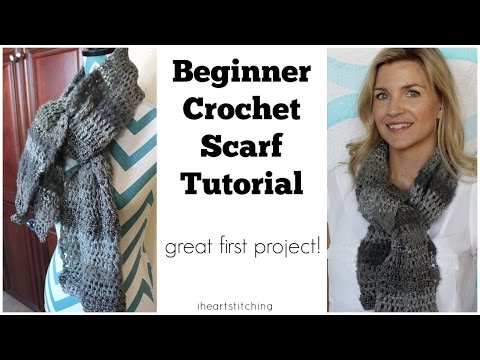 Subscribe for more great tutorials! http://bit.ly/MelanieHam
More simple crochet tutorials here! http://bit.ly/Crochettutorials

This video shows you how to make a simple beginner crochet scarf. I go very slow so its easy for a beginner to follow along.

Follow me on Social!
BLOG: http://www.melaniekham.com/
Etsy Shop: http://www.etsy.com/shop/melanieham
Facebook: http://www.facebook.com/melaniehamdes...
Twitter: https://twitter.com/#!/melanieham
Pinterest: http://pinterest.com/melanieham/
Instagram: http://followgram.me/melaniekham/

Get a FREE Crochet Pattern when you sign up for my Newsletter!
http://mad.ly/signups/124360/join

WRITTEN INSTRUCTIONS HERE: http://www.melaniekham.com/new-beginn...

If you are a beginner, use yarn like these...

http://amzn.to/Y9y00u

http://amzn.to/1qYEG8u

If you have crocheted a few projects or are comfortable with textured yarn, this is the yarn I used.

I used 2 of these skeins for my grey example scarf.
http://amzn.to/1CnFwV7

Whatever yarn you choose, use the crochet hook recommended on the label - that way you can pick any yarn you like. This project will work with most yarns.


*This contains affiliate links. It costs nothing for you, but each small percentage helps keep me in sewing supplies! THANK YOU for the support!!